Operation LBD Stratton
Available for Adoption!
Stratton is a 2 year old, male Boykin (with a tail), healthy, heartworm negative and neutered.   He is UTD on all vaccines and weighs in at 35 lbs.   He is currently being fostered in Georgia and his foster mom has done wonders with him. He has graduated from obedience class and although he still needs some practice, he is doing really well. He is smart and easy to train. He is fully crate-trained and knows to "kennel up" when told, is potty-trained and knows how to use the bell to tell her when he needs to go outside. Stratton is not a chewer but will occasionally grab a shoe or sock to entice you to play. He loves to be outside and loves to be occupied. Stratton is active and as such needs a fenced in yard so he can run and get out some of his energy. Stratton will make an awesome companion as he just wants to be next to you. He joins his foster mom frequently at outdoor events and out to eat and he is very well behaved. Stratton's foster mom has taken him multiple times to the lake and has learned that Stratton has a real obsession with water – drinking water! He's fine in the house but when he jumps in the lake, he wants to just drink and drink to the point where he's made himself throw up. As such, we feel it would be in Stratton's best interest that his water time be very limited and carefully supervised so he doesn't try to empty the lake or pool and get sick.  Stratton is great with other dogs and loves playing with his Boykin foster brother! He loves humans too– big and little. Stratton hasn't lived with a cat but his foster mom has exposed him to cats and is pleased that he doesn's exhibit a desire to chase; he's been either indifferent or calmly curious while on a leash. Stratton is going to make someone a GREAT dog especially if you are looking for a constant companion or fellow adventurer.
If you think you can give Stratton the wonderful home that he deserves, please click here to go to complete our adoption application and tell us you're interested in Stratton in the Additional Comments section.  If you are already an approved adopter with Operation LBD and are interested in Stratton, please email us at operationlbd@yahoo.com.
Operation LBD Molly
Foster Adoption Pending!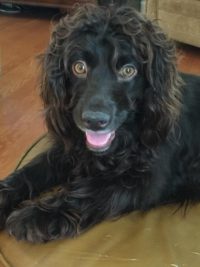 OLBD Molly is 2 year old, female, purebred Boykin Spaniel, who is UTD on vaccines, heartworm negative and intact.   Molly is currently in foster care and and will remain in foster care until she is spayed, shortly.  She has some pretty amazing foster parents who have been in love with her from the second they met her and we are so happy that once she is recovered from her spay surgery, Molly will officially be adopted by her fosters.  Molly is going to have a wonderful, forever life with them!! 
Operation LBD Gauge
Foster Adoption Pending!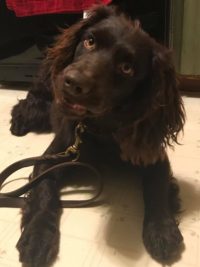 OLBD Gauge is a 9 month old male, purebred Boykin Spaniel.   Gauge is currently in foster care and will remain in foster care until he is old enough to be neutered by Operation LBD standards.  Gauge's foster family is deeply committed to him and his care and have fallen in love with our little guy!   He has two human siblings that he adores and adore him.   He's one lucky little Boykin and will be adopted by his foster family once has recovered from his neuter surgery!   Thank you!
If you are interested in adopting one of our wonderful dogs, shown above, please click here to go to be redirected to our Adoption Application.  Please be sure if you are interested in apply for a particular dog, that you state that dog's name in the comments section.  Thank you!