Operation LBD Johnny Cash
Available for Adoption!!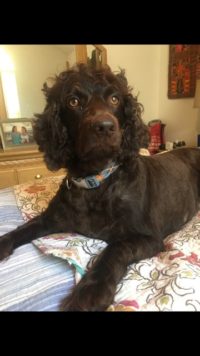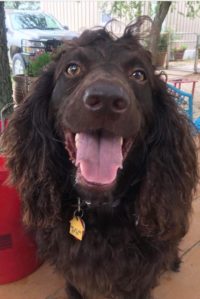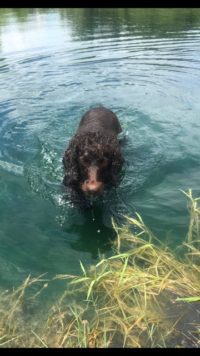 OLBD Johnny Cash an approximately 5 year old, purebred, male, Boykin Spaniel.   Cash as he's called, is UTD on vaccines, neutered and heartworm negative.   He is a sweet and loving boy that enjoys retrieving and swimming though he has not been hunting.   Cash is house trained, crate trained and walks well on a leash!  Cash can be grumbly and grumpy with other dogs but does not bite.   He would do best in a home where he is the only dog.   He does not do well with cats – he barks at them despite having had time to adjust to them in his foster home. Cash can be very active and loves to run and play but is well behaved inside the house.   He is obedient and intelligent.  Cash came in to his foster home very overweight but has lost several pounds under the wonderful and careful watch of his foster mom.   Cash will need a home that can continue to stick with his weight loss program so he can continue to make steady progress toward a healthy weight. He will need daily exercise…he loves swimming and/or walking.   Cash enjoys snuggling in the bed and checking in for a kiss during the day.    He has a significant capacity to form a strong bond with people as he loves people, in general.  Cash is being fostered in Texas!   If you believe you can give Cash the forever home he deserves and meet the qualities needed, above, please complete an adoption application and specify Johnny Cash in the comments.    Thank you!
Operation LBD Demi
Adoption Pending!!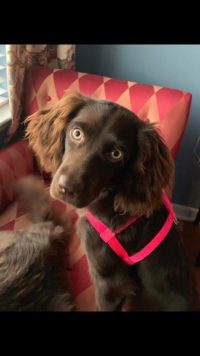 Operation LBD's Demi has a wonderful adoption pending and we couldn't be happier for her!   She has found her special family and is going to have an amazing life!   Demi is an approximately 9 month old purebred, female Boykin Spaniel.   Thank you! 
Operation LBD Beau
Foster Adoption Pending!!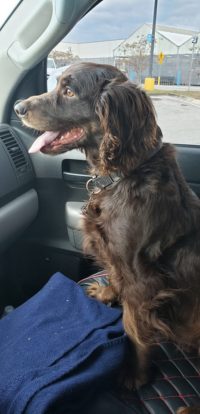 OLBD Beau is an approximately 8 year old purebred, male, Boykin Spaniel.   Shortly after intake in to Operation LBD, Beau was diagnosed with heartworms.   Operation LBD and his fosters will see him through his treatment and get him healthy!    Prayers would be welcome for this sweet boy during his treatment.  We are very happy to say that Beau's foster parents have agreed to "foster-to-adopt" our sweet Beau when he is cleared from his heartworm treatment!   We couldn't be happier for this precious one!    Thank you! 
If you are interested in adopting one of our wonderful dogs, shown above, please click here to go to be redirected to our Adoption Application.  Please be sure if you are interested in apply for a particular dog, that you state that dog's name in the comments section.  Thank you!