Operation LBD Stratton
Under Evaluation!
Stratton's foster mom needed someone to go to the lake with her this Summer so she decided to hang onto him for a while. You can follow his adventures here.  Stratton will be taking an obedience course and is expected to get his Canine Good Citizen certificate.   He has lots of adventures planned for him, including jet skiing and dock diving, kayaking, playing Frisbee and who knows what other adventures will come his way.
Are you looking for a smart dog? A loving and faithful companion? Meet Stratton!  Stratton is young, just over a year old, and he had a rough start in life. But with true Boykin resilience he has bounced back and is ready for whatever adventures life has to offer.  This boy is a blank slate just waiting for you to teach him something.  You want to do agility? No problem.  You want him to dance like a Border Collie? Piece of cake. Do you need a hunting partner? He's your guy!  About the only thing he wouldn't be good at is sitting on the couch doing nothing.   His foster mom believes he has a soft mouth.  
He may not be 100% Boykin but you wouldn't know it until you look into those deep, chocolate eyes. And he has a tail!  He is perfectly healthy, heartworm negative and just got neutered.   He is UTD on all vaccines and weighs in at 32 lbs. currently but could use to gain a few pounds.  All he needs is for you to come get him!  Teach him!  And promise to love him forever.  Stratton is going to make someone a GREAT dog!!  Stratton is great with other dogs and loves playing his Boykin foster brother!   He loves humans – big and little, too and is good with cats.  
If you think you can give Stratton the wonderful home that he deserves, please click here to go to complete our adoption application and tell us you're interested in Stratton in the Additional Comments section.  If you are already an approved adopter with Operation LBD and are interested in Stratton, please email us at operationlbd@yahoo.com.
Operation LBD Gauge
Under Evaluation!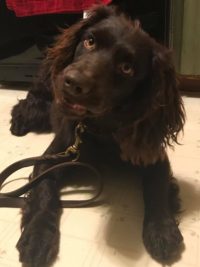 Gauge is an 9 month old male, purebred Boykin Spaniel.   Gauge is currently in foster care and will remain in foster care until he is old enough to be neutered by Operation LBD standards.  Gauge is now in a foster to adopt situation.  Thank you!
Operation LBD Norman
Adoption Pending!
Norman came to us as an owner surrender. His former owner loved him dearly but unfortunately, couldn't take him with him when he moved, even though he so wanted to.
Norman is approximately 1.5 years old and is a Boykin/possibly Lab or Boykin/possibly Aussie mix and weighs 43 lbs. What we do know is that Norman has the beautiful Boykin golden eyes and is a very loving boy with a great personality. Norman is neutered, up-to-date on all vaccines and heartworm negative!! He is very healthy, passive with other animals including his foster fur-siblings and is a happy boy. Norman is a high energy dog and because of that we believe he would do best in a home with children over the age of 5 years old only because in his excitement he may accidentally knock them over.
Norman is house trained and crate trained. He loves to run and play and because of this a fenced in yard will be required. He is great at catching a frisbee and would probably do very well with some agility training. But, don't be fooled, it's not all fun and games all the time, Norman loves to be with his foster family and curl up for some quiet time, too.
Norman would do great in a home with another canine fur buddy to play with and people who will help him get lots of exercise to run off some of his energy and most especially people who will give him the love, care and attention he needs. Norman, is a beautiful, special brown dog and deserves his own family to love on and have fun with. If you think you can provide Norman with the wonderful home that he deserves, please click here to go to our Adoption Application and specify Norman in the comments or if you are already an OLBD approved adopter, you can email operationlbd@yahoo.com and state that you're interested in Norman. Norman is currently in foster care for Operation LBD in South Carolina. Thank you for considering handsome Norman!!
If you are interested in adopting one of our wonderful dogs, shown above, please click here to go to be redirected to our Adoption Application.  Please be sure if you are interested in apply for a particular dog, that you state that dog's name in the comments section.  Thank you!