Operation LBD Dixie
Available for Adoption!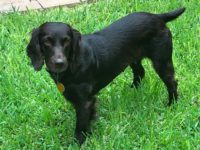 OLBD Dixie is a 3 year old, female, purebred Boykin Spaniel, who is UTD on vaccines, heartworm negative and spayed.   Dixie is a very sweet, loving and very happy dog.   Her foster mom says, "She's the most loving dog I've ever fostered. She'll just crawl right up in your lap and nuzzle her head in any space she can find".  Dixie's foster dad says, "Dixie is high on life"!   She loves playing with her foster fur-siblings and is learning wonderful socialization skills from them and in her foster home!  She is having a blast running in and out of their doggie door, during the day.   Dixie is crate trained, but she is not a fan of the crate for long periods of time and as such would do best in a home where her people are home most of the time or if she can travel with her people.   She is working hard on her potty-training and doing great with that.   She can get spooked by loud and sudden noises but settles down quickly but as such, Dixie is not destined to be a hunting dog.   She becomes more and more curious every day and has become an avid squirrel watcher.  Dixie would make a great constant companion for someone as she loves to be with people and makes a connection with everyone she meets.    Dixie is being fostered in Texas! 
Operation LBD Buck
Under Evaluation!!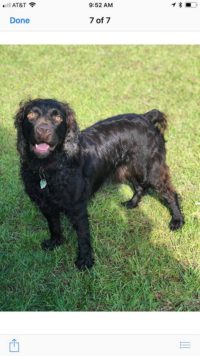 OLBD Buck is a 3 3/4 year old, male, purebred Boykin Spaniel, who is UTD on vaccines, heartworm negative and will be neutered, shortly.  Buck is a very sweet, gentle, laid-back boy.  Buck is not potty trained but working on it.  Buck is good with other dogs and children.  Buck is being fostered in Georgia and will be available for adoption, soon. 
Operation LBD Chubb
Under Evaluation!
OLBD Chubb is an approximately 2 yo, male, Purebred, Boykin Spaniel.   Chubb is neutered, utd on vaccines and currently undergoing heartworm treatment.   He is a very sweet but very active Boykin and will need an active family to keep up with him.   Chubb will be available for adoption once he successfully completes his heartworm treatment.   
Operation LBD Gauge
Foster Adoption Pending!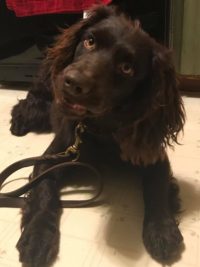 OLBD Gauge is a 9 month old male, purebred Boykin Spaniel.   Gauge is currently in foster care and will remain in foster care until he is old enough to be neutered by Operation LBD standards.  Gauge's foster family is deeply committed to him and his care and have fallen in love with our little guy!   He has two human siblings that he adores and adore him.   He's one lucky little Boykin and will be adopted by his foster family once has recovered from his neuter surgery!   Thank you!
If you are interested in adopting one of our wonderful dogs, shown above, please click here to go to be redirected to our Adoption Application.  Please be sure if you are interested in apply for a particular dog, that you state that dog's name in the comments section.  Thank you!