Operation LBD Norman
Available for Adoption!
Norman came to us as an owner surrender. His former owner loved him dearly but unfortunately, couldn't take him with him when he moved, even though he so wanted to.
Norman is approximately 1.5 years old and is a Boykin/possibly Lab or Boykin/possibly Aussie mix and weighs 43 lbs. What we do know is that Norman has the beautiful Boykin golden eyes and is a very loving boy with a great personality. Norman is neutered, up-to-date on all vaccines and heartworm negative!! He is very healthy, passive with other animals including his foster fur-siblings and is a happy boy. Norman is a high energy dog and because of that we believe he would do best in a home with children over the age of 5 years old only because in his excitement he may accidentally knock them over.
Norman is house trained and crate trained. He loves to run and play and because of this a fenced in yard will be required. He is great at catching a frisbee and would probably do very well with some agility training. But, don't be fooled, it's not all fun and games all the time, Norman loves to be with his foster family and curl up for some quiet time, too.
Norman would do great in a home with another canine fur buddy to play with and people who will help him get lots of exercise to run off some of his energy and most especially people who will give him the love, care and attention he needs. Norman, is a beautiful, special brown dog and deserves his own family to love on and have fun with. If you think you can provide Norman with the wonderful home that he deserves, please click here to go to our Adoption Application and specify Norman in the comments or if you are already an OLBD approved adopter, you can email operationlbd@yahoo.com and state that you're interested in Norman. Norman is currently in foster care for Operation LBD in South Carolina. Thank you for considering handsome Norman!!
Operation LBD Gauge
Under Evaluation!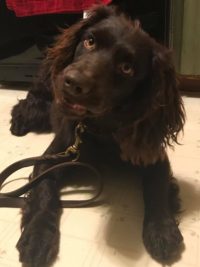 Gauge is an 8 month old male, purebred Boykin Spaniel.   Gauge is currently in foster care and under evaluation.  Applications are NOT yet being taken for Gauge.   We will update when he is available for adoption.  Thank you!
Operation LBD Stratton
Adoption Pending!
Are you looking for a smart dog? A loving and faithful companion? Meet Stratton!  Stratton is young, just over a year old, and he had a rough start in life. But with true Boykin resilience he has bounced back and is ready for whatever adventures life has to offer.  This boy is a blank slate just waiting for you to teach him something.  You want to do agility? No problem.  You want him to dance like a Border Collie? Piece of cake. Do you need a hunting partner? He's your guy!  About the only thing he wouldn't be good at is sitting on the couch doing nothing.   His foster mom believes he has a soft mouth.  
He may not be 100% Boykin but you wouldn't know it until you look into those deep, chocolate eyes. And he has a tail!  He is perfectly healthy, heartworm negative and just got neutered.   He is UTD on all vaccines and weighs in at 32 lbs. currently but could use to gain a few pounds.  All he needs is for you to come get him!  Teach him!  And promise to love him forever.  Stratton is going to make someone a GREAT dog!!  Stratton is great with other dogs and loves playing his Boykin foster brother!   He loves humans – big and little, too.  He has not been tested with cats though.  
If you think you can give Stratton the wonderful home that he deserves, please click here to go to complete our adoption application and tell us you're interested in Stratton in the Additional Comments section.  If you are already an approved adopter with Operation LBD and are interested in Stratton, please email us at operationlbd@yahoo.com.
Operation LBD Styles
ADOPTED!
Meet the very handsome Styles!   Styles was being offered for sale on Craigslist in early December, 2018 because his owner moved and sadly, could not take him with her.  Operation LBD reached out to the owner and offered some advice about what to ask prospective buyers and to suggest the owner ask for references to be comfortable and ensure Styles would go to a good home.   The advice was very welcomed, so much so, that a few weeks later that owner reached back out to Operation LBD to say she wasn't comfortable with some of the people contacting her and asked if Operation LBD could intake Styles at a reduced cost.  Education can go a long way.  Operation LBD did intake Styles just before New Year's and he's currently with his amazing fosters in Alabama.
Styles is a 3 year old, male, purebred Boykin Spaniel and is an absolute love, according to his foster mom.  He is UTD on vaccines, heartworm negative, microchipped and weighs 26 lbs.   He was intact when we took Styles in but he has now been neutered, checked over by our foster's vet and given a great bill of health.  Styles was left alone a great deal in his former home due to work schedules and craves human attention and loves being with his foster fur-siblings, as well.    He is young and active and needs a lot of exercise.    He does NOT like loud noises, nor thunder nor yelling so we do not believe gun fire would be to his liking either.  When he arrived at his foster home, he showed no tendency for fetching but his Boykin foster sister has taken him under her paw and is showing him how to fetch and he's loving it.   He loves to be a lap dog and when you're gone for any period of time, he will come running and try and jump right in to your arms.   As such, he would greatly benefit from some behavior training and will not be adopted in to a home with very young children, only to protect them from being knocked over.  He does like to nip and mouth you but not in an aggressive way but rather to get your attention.   He's been with older children and does great.  He knows some basic commands – sit, stay, come, no and will not go out the door until released.
He has shown no destroykin tendencies in his foster home, thankfully.  His foster mom cannot express enough what a truly sweet, loving dog he is and he just wants to be near you, touching you at all times and loves to give those special little brown dog kisses.  She says when he looks at you, it's like you can see in to his sweet soul and it's clear he absolutely loves you unconditionally.   If you think you can give Styles the wonderful home that he deserves, please click here to go to complete our adoption application and tell us you're interested in Styles in the Additional Comments section.  If you are already an approved adopter with Operation LBD and are interested in Styles, please email us at operationlbd@yahoo.com.
If you are interested in adopting one of our wonderful dogs, shown above, please click here to go to be redirected to our Adoption Application.  Please be sure if you are interested in apply for a particular dog, that you state that dog's name in the comments section.  Thank you!