Operation LBD Jax
New Intake – Under Evaluation!!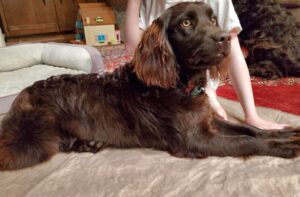 OLBD Jax is our newest intake!  Jax.  is 6 month old, purebred, male, Boykin Spaniel!   Jax will be vetted soon and is currently under evaluation with his foster!  We do know he loves children and gets along great with other dogs!  He will need a fenced in yard, for sure, so this youngster can safely get that puppy energy out with a good game of fetch! He is learning house manners as he was previously kept outside. 
OLBD Jax is NOT YET available for adoption!  We will update his status when he does become available.   We understand everyone wants a young Boykin Spaniel, but please always remember, it is our job to find Jax and all our rescues, the right fit home, always!!!  We will never waiver from putting the dog's needs first!  Thank you for your understanding!  
Operation LBD Smokey
Available for Adoption!!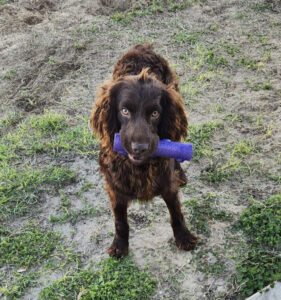 OLBD Smokey is one of our newest intakes. Smokey is an approximately 1-year old, purebred, male, Boykin Spaniel who came in OLBD, much like OLBD Deacon  scared of everything.  He has been fully vetted, is neutered and in great health and is heartworm negative!!  After a few weeks with his foster, he is making good  progress on learning to live in a home and be loved pet!!
He's gorgeous with curly brown fur and his foster says he's very sweet!  He's working on crate training and doing very well and is also working on potty training and also doing well at that.  He does like to jump and his foster is helping him curb that and he sometimes likes to nibble a little too hard but can be redirected easily from doing that.  He's still a puppy and needs positive reinforcement training, first and foremost!   He does very well with other dogs and would really do best in a home with another dog he can play with and learn from.  Because he is still get scared of things, he would do best in a home with no small children!   He will need a fenced in yard in his new home, as well!
If you believe you can give OLBD Smokey the time he still needs to continue learning to trust, work on his potty training and give him all the love and attention and positive reinforcement training he needs, please complete an application on our website and mention Smokey.    Thank you and always remember, it is our job to find Smokey and all our rescues, the right fit home, always!!!   
Operation LBD Jazz
Available for Adoption!!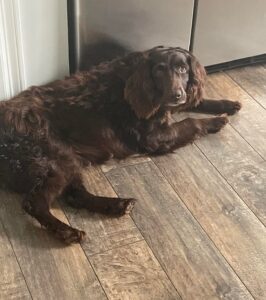 OLBD Jazz is one of our newest intakes.  She is an approximately 9 year old, purebred, spayed, female Boykin Spaniel, weighing 40 lbs.  Her writeup below is compliments of her wonderful foster dad!! 🙂 
Update as of 2/25/2023:  Sweet Jazzy girl has not had a potty accident in over a week and is learning to play with toys and enjoy them and absolutely loves rolling around and sprawling in the grass.   Her foster dad she is definitely coming out of her shell!   We love this update!!
Hey furfrens my name is Jazz or Jazzy girl. I am in SC with my foster damily and I am looking for a furever home to share with my new frens.   My vet fren said I was a healthy girl and I am heart worm free and already on my flea, tick and heart worm prevention meds and I have a micro-chip.  I have thick wavy liver colored coat and I love baths.  In fact, I will just sit in the bathtub while you rub me down.
I don't like loud noises right now or fireworks and I am not a hunter….I am a little skittish at first but once we get to trust each other, I love to be petted and will shadow you and shower you with attention.  I love little doggy toys and to play in the backyard.  A fenced backyard is a must for me because after years in a kennel I am still learning how to play outside and potty on the grass.
I get along well with other dogs but I think I might just want to be your only one  because it takes  2 hands for petting me.  I love walks, car rides and my crate is my little home in a home.  I like my crate at nights and short times during the day when y'all are out buying my food.  I luv to eat.  I know there is someone that needs me as much as I need you.  I  just need is a little time, patience and TLC so we can get to know each other. Let's do this together so put in an application for me!
Thank you and always remember, it is our job to find Jazz and all our rescues, the right fit home, always!!!   I
Operation LBD Bo
HW ++ and in a Foster-to-Adopt Home!!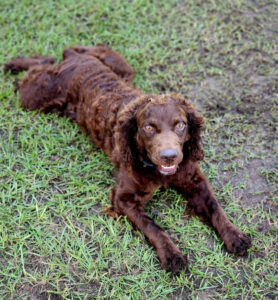 UPDATE:  11/2/2022 - Sadly our OLBD Bo tested positive for Heartworms and will be undergoing Heartworm treatment!  As such, he has been placed in a foster-to-adopt home while he is undergoing full heartworm treatment so he can safely undergo treatment and bond with his new family during the long heartworm treatment process.    Please keep our precious boy in your positive thoughts and prayers during treatment!!
OLBD Bo is an approximately 4 year old, male, purebred Boykin Spaniel.  Please always remember, it's our job to find the right fit home for Bo and all our wonderful dogs.   Thank you!