Mr. Bohdi (Owner Assist)
Available for Adoption!!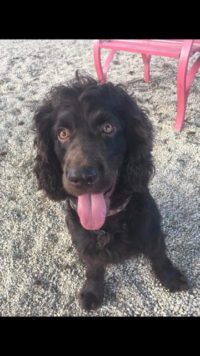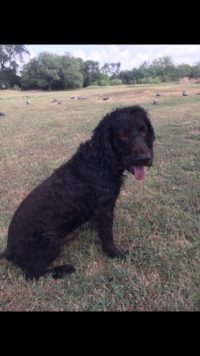 Operation LBD is helping Bodhi's current owner find him a new home and the following description is from Bodhi's current owner & foster. 
Bodhi is a 5 year old sweetheart that lost his family including his 3 best friend boys due to a family tragedy. He had lived with and slept in the beds of his little boys from the time he was 8 weeks old. Bodhi was lost and despondent when we first brought him to our home to foster. He missed his family so much! It has taken time, but Bodhi has become a sweet, happy, well adjusted boy that LOVES to retrieve. We discovered his littermate is a hunting retriever champion and Bodhi thinks he is as well!  We have spent a great deal of time leash training Bodhi and he has excellent manners on lead. He loves to run, swim and make giant belly flops in the water. He definitely needs someone that can share an active lifestyle though he also enjoys being brushed and snuggled every evening. Bodhi is very intelligent and loves to work with us learning new things and chasing his bumpers. His zest for life is truly contagious!  Bodhi is a larger boykin boy but likes to sit in the armchair with us for movie time though he is content to lie on his bed next to our chair as well. He keeps me company and has his head on the edge of the tub at bath time, occasionally stealing a drink from the tub! Bodhi would do well with older children and other dogs that are non aggressive. Bodhi would not do well with a cat. Bodhi is housebroken but will mark now occasionally due to the number of boys we have in the house.  Bodhi so deserves to be loved and cherished, the heart of a family, that will fall in love with his sweet, bodacious personality.   
If you are interested in adopting Bodhi, please complete an application for this precious boy who deserves a home of his own, again.  Bodhi is currently located in Texas. 
Operation LBD Delia
New & Under Evaluation!!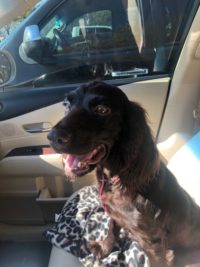 Meet the beautiful OLBD Delia!  Delia is approximately 2.5 years old and is a female, purebred Boykin Spaniel.    Delia is NOT YET available for adoption as she is a recent intake who needs spaying and an evaluation period beforehand.  We have had Delia fully vetted, updated on vaccines and she is, thankfully, heartworm negative.   Her fosters are learning more about her every day but what we do know for sure is that she doesn't like chickens…'nuff said!    We will change her status as soon as she's ready for her new home!  
Operation LBD Cooper
New & Under Evaluation!!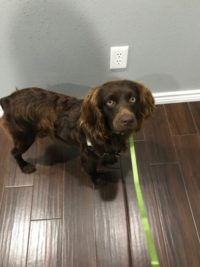 Operation LBD's Cooper is our newest intake and is currently under evaluation.   Cooper is not yet available for adoption!   Thank you! 
Operation LBD Beau
Foster Adoption Pending!!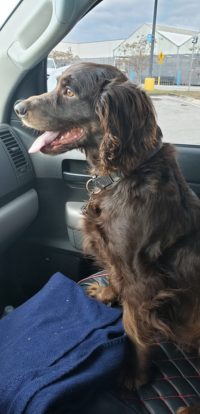 Update:  As of October, 2019, Beau is still heartworm positive and will be retested in early 2020.   Prayers he tests negative at that time! OLBD Beau is an approximately 8 year old purebred, male, Boykin Spaniel.   Shortly after intake in to Operation LBD, Beau was diagnosed with heartworms.   Operation LBD and his fosters will see him through his treatment and get him healthy!    Prayers would be welcome for this sweet boy during his treatment.  We are very happy to say that Beau's foster parents have agreed to "foster-to-adopt" our sweet Beau when he is cleared from his heartworm treatment!   We couldn't be happier for this precious one!    Thank you! 
If you are interested in adopting one of our wonderful dogs, shown above, please click here to go to be redirected to our Adoption Application.  Please be sure if you are interested in apply for a particular dog, that you state that dog's name in the comments section.  Thank you!