Operation LBD Caro
Available for Adoption!!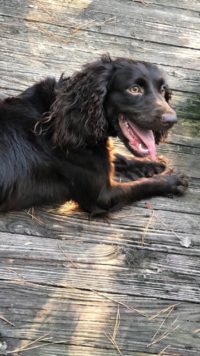 Meet one of our newest intakes, the very adorable OLBD Caro, who is as sweet as syrup as her foster mom refers to her!!  Caro is approximately 2 years old and is a female, purebred Boykin Spaniel.    Caro has been fully vetted… is now updated on vaccines, thankfully is heartworm negative and has been spayed.  Caro is sweet and definitely wants to please you. She has lots of energy and wants to run and play. She loves to be outside, watching wildlife, playing with her foster fur-sister, and playing fetch. Caro absolutely LOVES to swim, the weather doesn't matter to Caro, if she can get in to the water, she will!   She still has some puppy in her and her foster family is working on chewing appropriate things.   She will try to counter surf and her foster family has been working with her on that.   She's doing well with leash walking and responding to basic commands.  Caro would like a home where her people come and go throughout the day or could take her with them/work from home. She loves kids of all ages and other dogs. She loves to ride in the car and going for walks.  She does well in her crate.  She sleeps in her crate at night also but wants to be in the bed with her foster mom. She doesn't make a peep in her crate and doesn't complain about going in. She is the sweetest dog and loves to snuggle with her foster mom!  She is a nervous pee'er when she's in new places or in a new situation and will need kindness and patience to help her with her full house training but she's already begun to make strides with that in her foster home.  She is learning to use a doggie door and is doing very well with that.   If you are interested in our little Miss "sweet as syrup" Caro, please complete an adoption application and let us know in the comments you're interested in Caro.   Thank you! 
Mr. Bohdi (Owner Assist)
Available for Adoption!!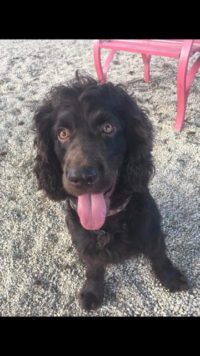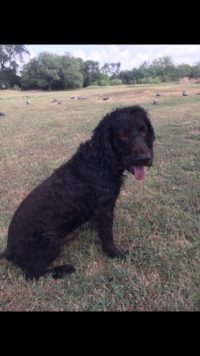 Operation LBD is helping Bodhi's current owner find him a new home and the following description is from Bodhi's current owner. 
Bodhi is a 5 year old boy that loves to retrieve! He is a big talker and will go to the dummy and back letting you know he wants to play fetch!  Bodhi is a tall boy and should weigh around 45 lbs at his healthy weight. Bodhi came to us very thin but he is catching up fast with some  TLC.  Bodhi was house trained to our home after a few days settling in and adjusting to our routine.  He is not a big snuggler but wants to be with you almost all the time. We believe he was not given much touch interaction for the last two years. We are working on showing him how nice it is to get a chest and belly rub.  Bodhi knows some simple commands such as heel and sit, especially if you have a throw toy! Bodhi was dragged by his collar to places he did not want to go and he ducks down when grasped by his collar. He is learning to walk on a leash without pulling. He is very good in his crate and comes when called nicely. He likes to sleep in the bed and is quiet and well behaved when the lights go out. Bodhi needs a home where he can run, play and have daily interactions with a pup parent walking and retrieving. He loves swimming!
Bodhi gets along very well with other neutered males and girls but cats are not his bag. He is a merry, happy boy looking for the right forever family.  If you are interested in adopting sweet Bohdi, please complete an application on our website as we are screening all applicants to help the owner find the right home for Mr. Bohdi! 
Operation LBD Delia
New & Under Evaluation!!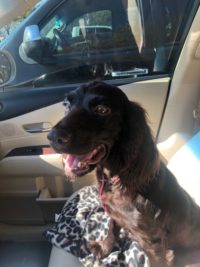 Meet the beautiful OLBD Delia!  Delia is approximately 2.5 years old and is a female, purebred Boykin Spaniel.    Delia is NOT YET available for adoption as she is a recent intake who needs spaying and an evaluation period beforehand.  We have had Delia fully vetted, updated on vaccines and she is, thankfully, heartworm negative.   Her fosters are learning more about her every day but what we do know for sure is that she doesn't like chickens…'nuff said!    We will change her status as soon as she's ready for her new home!  
Operation LBD Cooper
New & Under Evaluation!!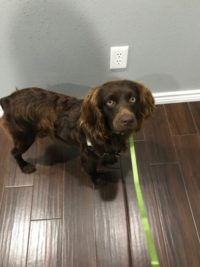 Operation LBD's Cooper is our newest intake and is currently under evaluation.   Cooper is not yet available for adoption!   Thank you! 
Operation LBD Beau
Foster Adoption Pending!!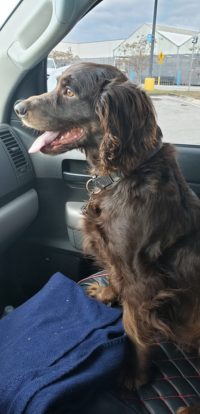 Update:  As of October, 2019, Beau is still heartworm positive and will be retested in early 2020.   Prayers he tests negative at that time! OLBD Beau is an approximately 8 year old purebred, male, Boykin Spaniel.   Shortly after intake in to Operation LBD, Beau was diagnosed with heartworms.   Operation LBD and his fosters will see him through his treatment and get him healthy!    Prayers would be welcome for this sweet boy during his treatment.  We are very happy to say that Beau's foster parents have agreed to "foster-to-adopt" our sweet Beau when he is cleared from his heartworm treatment!   We couldn't be happier for this precious one!    Thank you! 
If you are interested in adopting one of our wonderful dogs, shown above, please click here to go to be redirected to our Adoption Application.  Please be sure if you are interested in apply for a particular dog, that you state that dog's name in the comments section.  Thank you!