Operation LBD Renny
Available for Adoption!!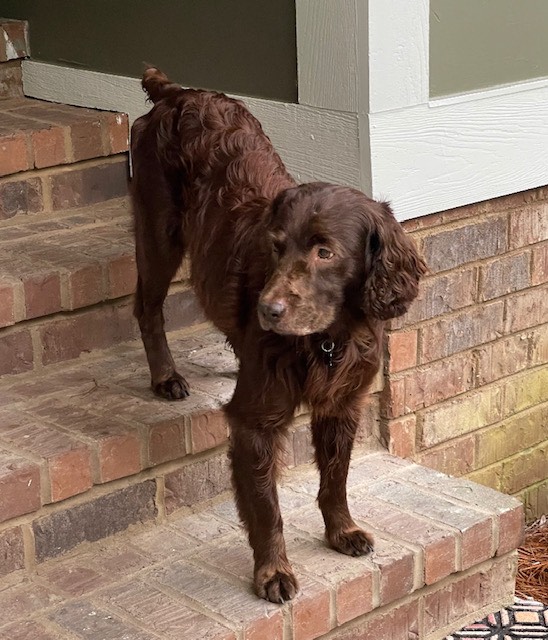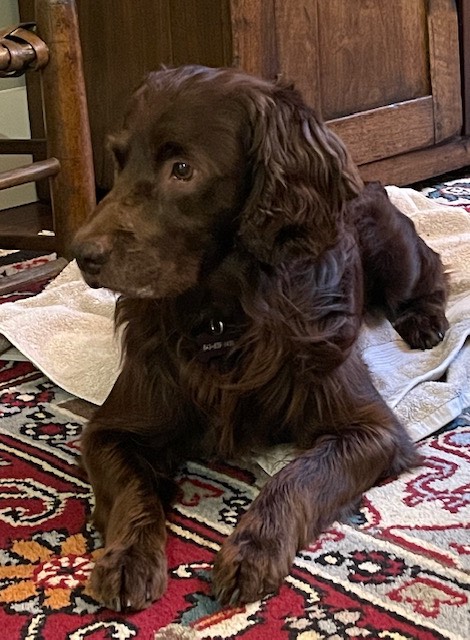 Our newest intake is OLBD Renegade, aka "Renny".    Renny is a pure-bred, male Boykin Spaniel who is fully vetted, healthy, neutered and heartworm negative.  At 9 years old Renny lost his lifelong dad companion who had to just dote on Renny and spend lots of time with him as Renny mourned his loss for several days not wanting to leave his safe place, his crate. Renny's dad had to spend hours playing fetch the ball with Renny since Renny's most favorite activity in his life is retrieving his ball. Renny will follow you with his ball in his mouth and keep placing it at your feet over and over until you throw that ball. This will continue for as long as you will keep throwing the ball. He can even catch the ball in the air just like an NFL wide receiver; that activity makes for lots of fun. When Renny loses his ball, he will improvise and find a cow hoof to use as a ball. Renny is very laid back but does enjoy his walks on the leash and off leash. He also enjoys his long hikes along Lynch's River and swimming in the river. He always comes when called; he knows his name well and listens. Renny is soft hearted and used to being the only dog in his home, therefore Renny needs to be the only dog for his companion. He does get along with other dogs, but if they get too close to his ball he will let them know to back off. He has even been around cats, so as long as they don't want his ball he is ok with cats. Renny loves his car rides as well and is a very calm car rider. Renny has a special blanket that travels with him from his previous father. That blanket stays in his kennel where Renny likes to sleep at night in his safe place. Renny's previous owner was so proud of Renny that lots of papers and notes were kept on Renegade that go with him. Renny does extremely well inside finding a comfortable place to lay keeping his eye on you and has not had one accident. Renny likes hanging out in the fenced back yard and does not dig, climb, or scratch on doors. He has excellent manners and is obedient! He has no anxiety and will be calm and just wait on his person. He also has no itchy skin, ear infections, or any other medical needs. Renny is an easy low maintenance boy and is looking for someone's devoted attention as he will be completely devoted to his person!  If you believe you can give Renny the right, forever home that he so deserves, please complete an application on our website and mention you are interested in Renny.   Thank you!
Operation LBD Reese
Foster Adoption Pending!!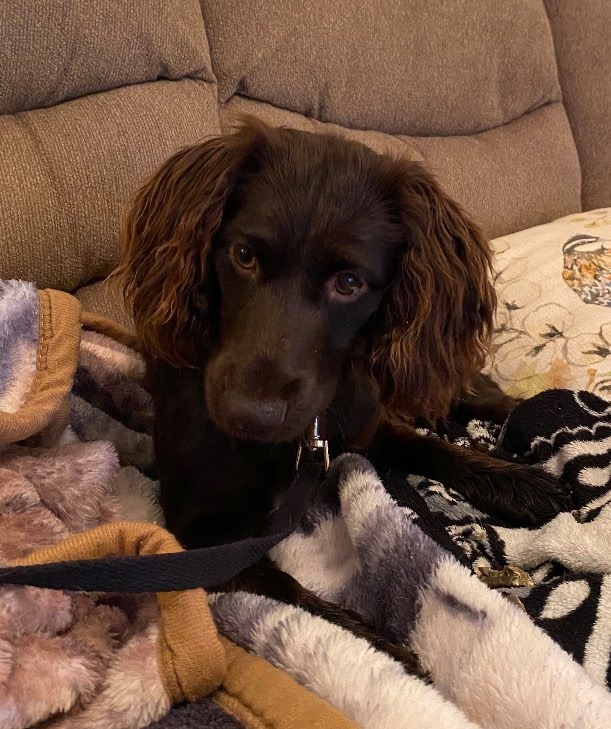 Our sweet OLBD Reese is "almost" officially home as in she's there already and her foster family is ready to make her adoption official.  Reese's eye issues are finally under control but it's easily aggravated by allergies and she will require continued, lifelong medications to control her eye issues and her family understand this and is happily accepting of their task to keep her eye condition under control.  Reese came in to Operation LBD "somewhat feral" and her foster family has worked with her faithfully and brought her such a long way from where she was.   She is going to be so loved and most appreciated by them forever as they have seen her transformation first hand!    Thank you to everyone who has expressed interest and we know you'll understand why this decision was made and is the best for Reese as that's what is first and foremost our #1 priority for Reese and all of our rescue dogs we intake.   We will announce her adoption once it's been finalized.   Thank you!!  
Operation LBD Bailey Bug
Foster Adoption Pending!!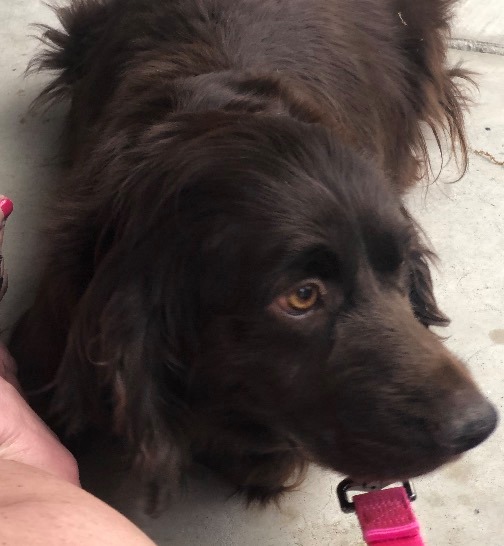 OLBD Bailey Bug is another of our intakes who will be remaining with her fosters and officially adopted by them.   It's absolutely what is best for her.  She came in to Operation LBD as a mature dog who only had one purpose in life, to produce litters of puppies.  That is the case no more!  Bailey Bug went from belly-crawling and oh so timid around humans to the very confident, loving and trusting girl that she has become…all thanks to her very patient, committed and loving fosters.    Bailey Bug will continue and complete her full heartworm treatment and will then be officially adopted by them.  We are most grateful to them, thank them and know that those of you who expressed interested in our sweet girl will be as happy for her as we are and understand this necessary decision!   We will announce her formal adoption when her heartworm treatment is completed and she's "cleared for take off"!!  Thank you!!  
Operation LBD Georgia
Medical Foster to Adopt Pending!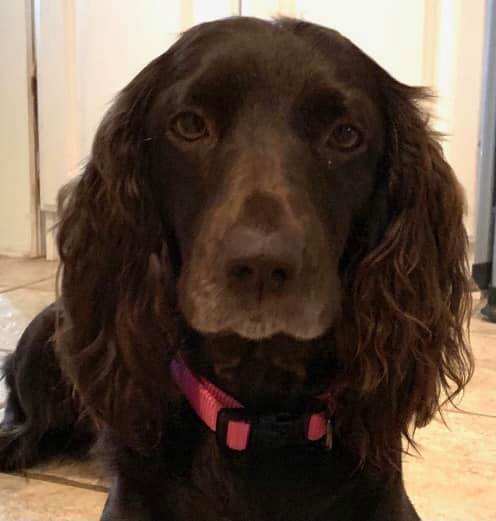 4/2021 Update on OLBD Georgia.
Georgia came to us late September and immediately vetted and was found to be Heartworm positive. After obtaining past vetting records, she had been suffering with that condition for well over a year and never successfully treated. She was also diagnosed with "moderate" hip dysplasia.  We are happy to say that she is Heartworm free and was cleared for her spay surgery.  Her foster noticed that there had been a stiffness in her hips after play so while under anesthesia for spay, we had X-rays done on her hips.    Her right hip is now listed as "severe" and is causing her pain. So, she will be having FHO surgery on her right hip now and in the future will most likely need the left done.
Georgia is a sweet and loving girl and has come through all these obstacles like a champ!   That's thanks to her equally sweet and loving foster! From the beginning she has given her the care, patience and understanding to get her through all this and learn to trust.
Because of the lengthy treatment so far and the procedures and rehab needed in her future, her foster can't imagine not seeing her through this now and anything she might face in the future for the rest of her life!    So Georgia will be staying right where she is!
When healthy, we can make it official but I think Georgia already knows she's home!!!    Please keep Georgia in your prayers as she faces her surgery and rehab. And, thank you for making it possible!   We love you sweet Georgia!!  <3
Operation LBD Gunner
HW + and with a Medical Foster-to-Adopt!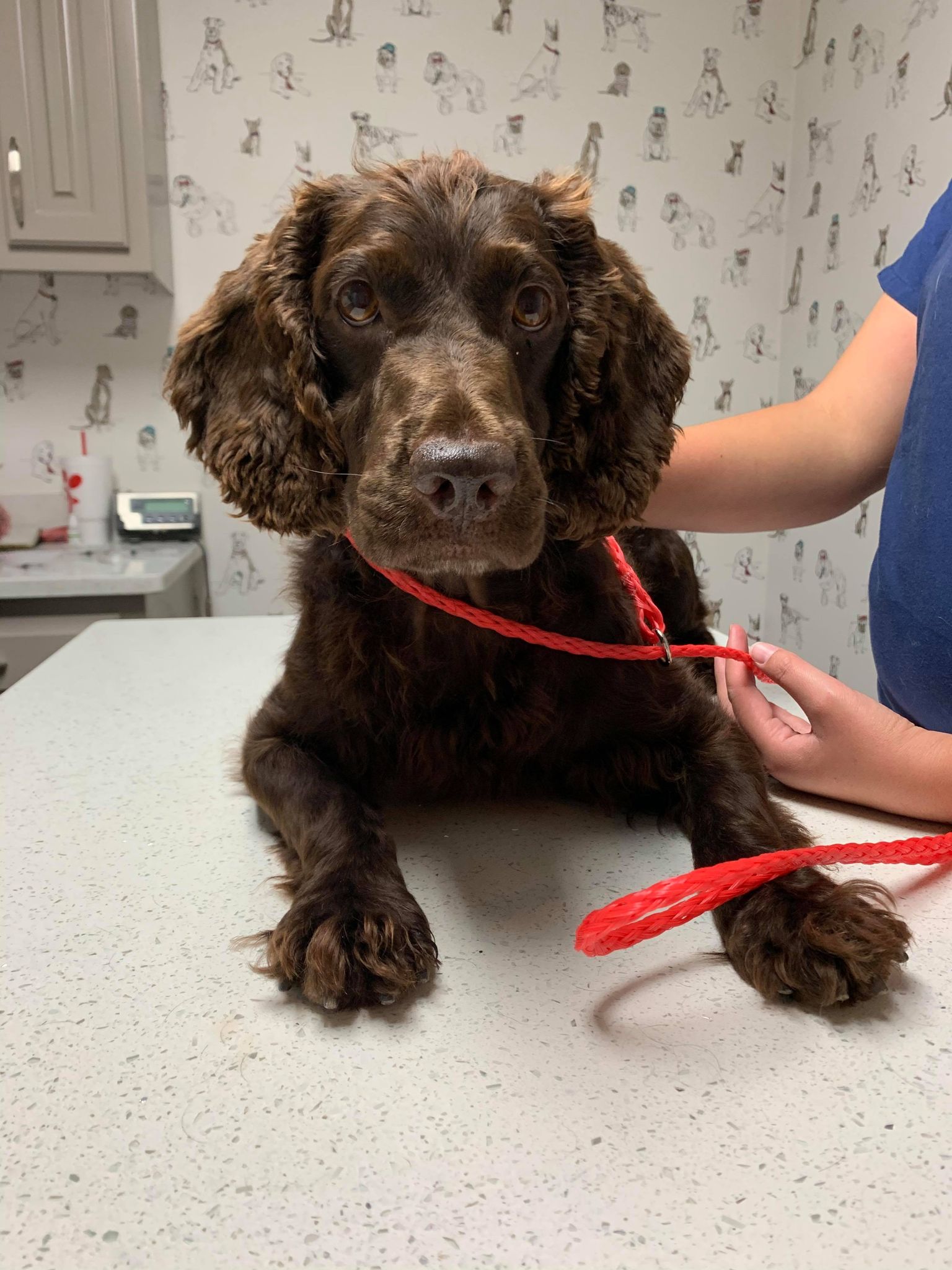 Meet OLBD Gunner!  Our very handsome Gunner is a new intake to Operation LBD.  At intake, Gunner required full vetting and unfortunately this very sweet and handsome boy is also heartworm positive.   Gunner will remain in foster care until he is finished with his heartworm treatment and tests negative!  Gunner is currently with a medical foster while under going heartworm treatment and as such and because this will be a lengthy foster experience and bonding will occur, once he completes his treatment, he will be adopted by his medical foster.  It is our job to do what's best for our intakes and we thank you for understanding!  Thank you!! 
If you are interested in adopting one of our wonderful dogs, shown above, please click here to go to be redirected to our Adoption Application.  Please be sure if you are interested in apply for a particular dog, that you state that dog's name in the comments section.  Thank you!